Bath
Relaxed in spilling hot water
When you soak in the spilling fragrant hot water of Nikko hot spring, with your arms and legs stretched to the full, you will somehow refresh your mind and body by the atmosphere unique to the hot spring of travelling and feel the moment of bliss in the very artistic atmosphere.
OPEN in June 2016
Private open-air bath
[MIZUHIKARI]
(water light)


[MIZUOTO]

(water sound)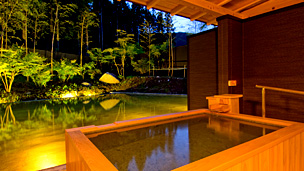 I want to take a bath calmly and leisurely, anyway. We recommend to such people two rooms [MIZUHIKARI] (water light) and [MIZUOTO] (water sound).